Last updated: April 27, 2021
The Sunchon Phosphatic Fertilizer Factory (순천린비료공장) is a large fertilizer factory inaugurated by Kim Jong Un on May 1, 2020, in Sunchon, South Phyongan Province.
As of April 2021, it is unclear if the factory is in regular production. Activity at the site points toward production delays.
Origins
The Sunchon Phosphatic Fertilizer Factory is one of several factories at the heart of a plan to develop a C1 chemical industry that Kim called for in a speech at the Seventh Congress of the Workers' Party of Korea in June 2016.
C1 chemistry refers to the gasification of anthracite and brown coal to produce synthetic gas with carbon monoxide and hydrogen, which are then used to produce methanol, a precursor to organic compounds such as ethylene and propylene. These are then used for gasoline, plastics, synthetic fibers (vinalon), fertilizers, paints, pesticides and medicines.
As North Korea is rich in coal, development of a C1 chemical industry could supply a large number of raw materials to the economy, reduce dependence on imports of oil and fertilizers, and save foreign currency.
Sunchon
Sunchon is about 50 kilometers (30 miles) from Pyongyang on the upper reaches of the Taedong River. The city of roughly 300,000 people has a series of large limestone mines located just to its east and is home to several major industrial complexes, including the Sunchon Cement Factory.
The deposits of limestone, anthracite coal and apatite are all useful as raw material to the fertilizer plant and have made Sunchon a focus in North Korea's C1 industry plans. In addition to the fertilizer factory, a new C1 factory is currently under construction, though state media has yet to disclose its purpose.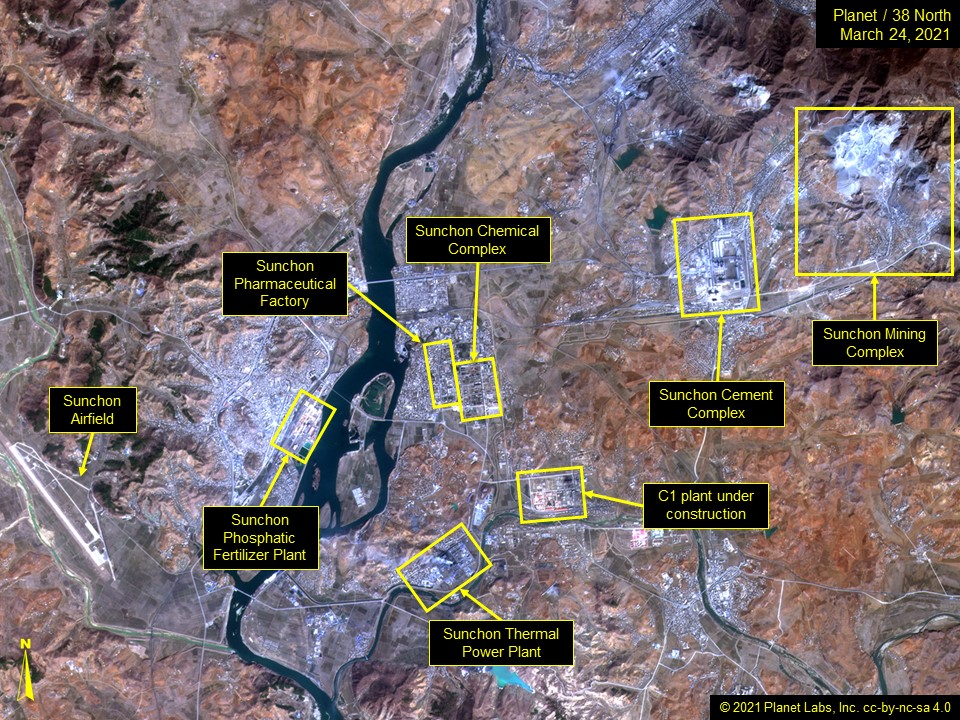 Construction Timeline
Construction of the factory began on July 16, 2017, with a groundbreaking ceremony attended by North Korean Premier Pak Pong Ju and Minister of the Chemical Industry Jang Kil Ryong.
The ceremony was the first of many visits Pak and other senior officials would make to the complex during its construction, underlining its importance to the state.
July 2017: Premier Pak Pong Ju
January 2018: Premier Pak Pong Ju
May 2018: Premier Pak Pong Ju
November 2018: Premier Pak Pong Ju
December 2018: Premier Pak Pong Ju
January 2019: Premier Pak Pong Ju
April 2019: Premier Kim Jae Ryong
July 2019: Workers' Party of Korea (WPK) Central Committee (CC) Vice Chair Pak Pong Ju
July 2019: Premier Kim Jae Ryong
January 2020: Kim Jong Un
January 2020: Premier Kim Jae Ryong
February 2020: SPA Presidium Chair Choe Ryong Hae
February 2020: WPK CC Vice Chair Pak Pong Ju
April 2020: Premier Kim Jae Ryong
May 2020: Kim Jong Un
The three visits Pak made in quick succession between November 2018 and January 2019 hint at the project falling behind schedule due to lack of raw materials. In the November visit, Pak reportedly told officials they needed to accelerate construction, and after his two subsequent visits, state media noted the need to increase the supply of materials to help finish construction.
When he visited the site in July, state media reported there was a consultative meeting that examined "issues to be tackled in stepping up the construction."
Later, when the plant was opened, state media reported that the project was, at one time, "in a standstill due to various bottlenecks in the early stage of the construction."
The plant was designed by researchers from the State Academy of Sciences and Kim Chaek University of Technology. Several units took part in the construction, including the Kangson Industrial Construction Company, Unsan Thermal Power Plant Construction Company and the Pongsan Chemical Construction Company.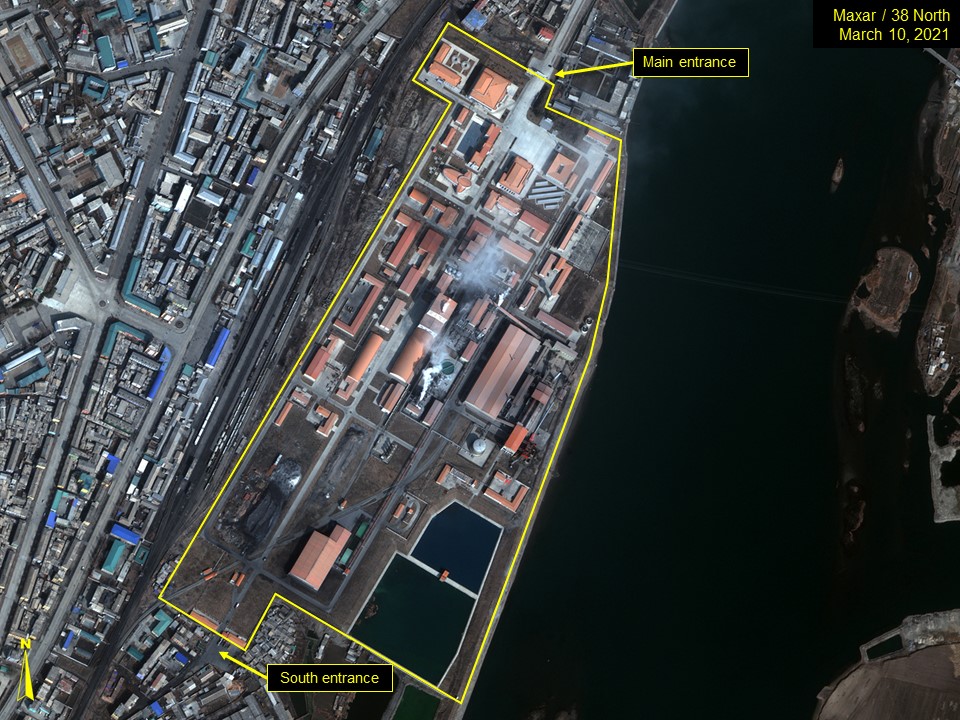 The factory complex is largely self-contained and includes administration and revolutionary education buildings in addition to dormitories for site workers.
The Opening
The factory was opened on May 1, 2020, in a ceremony attended by Kim Jong Un. The event was widely reported on in international media, but not because of the factory opening. It was Kim's first public appearance in several weeks after widespread rumors that the North Korean leader was gravely ill.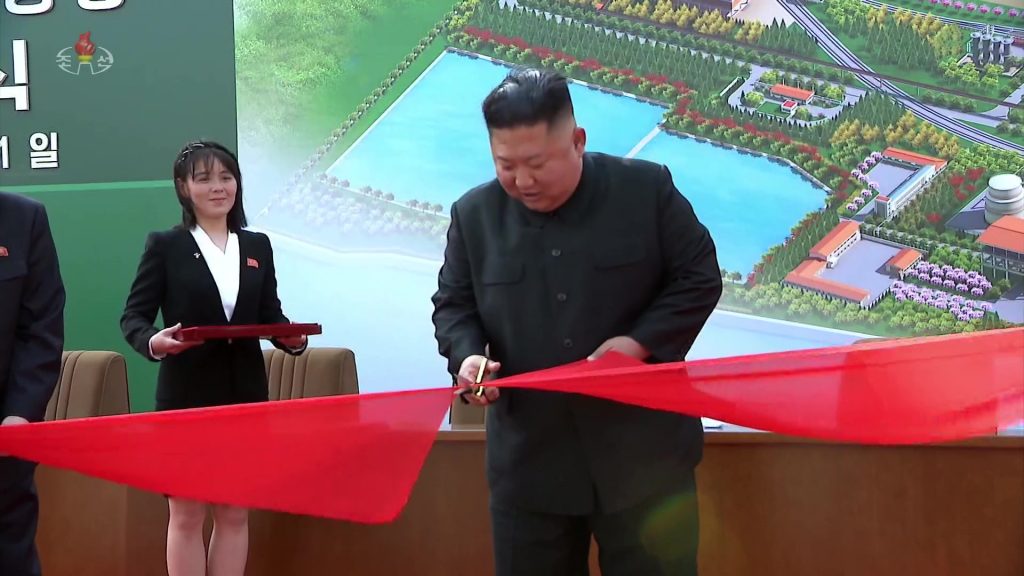 38 North Analysis
Domestic Media Coverage
International News Coverage