The 2017 speech was most notable for Kim Jong Un's announcement that "We have reached the final stage in preparations to test-launch in intercontinental ballistic rocket."
The announcement followed two nuclear tests in 2016 and came less than a month before Donald Trump's inauguration as President. It immediately highlighted what President Obama had warned would be his "number one problem."
An ICBM test would be seen as a significant stepping up of antagonization towards the United States and its allies. In the end, the test never occurred, but did push North Korea to the top of the foreign policy agenda for President Trump.
The following day, then-President-elect Trump tweeted, "North Korea just stated that it is in the final stages of developing a nuclear weapon capable of reaching parts of the U.S. It won't happen!"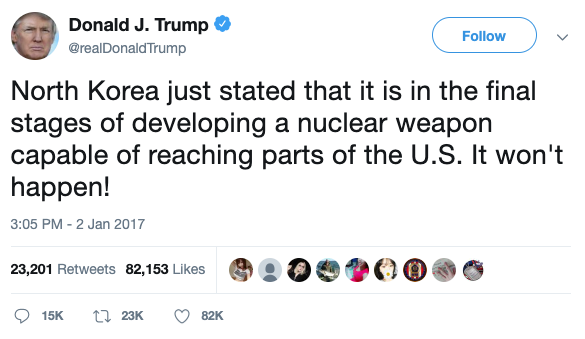 The twitter message was to be the first message in an increasingly confrontational war of words between Trump and Kim that lasted most of the year.
During the speech, he also hailed the "brilliant successes" made in the military in 2016 including a nuclear test and test launches of new missiles, which he said were "to cope with the imperialists' nuclear war threats, which were growing more wicked day by day."
Highlighted Achievements of 2016
Kim mentioned January's test of a hydrogen bomb, the February launch of the Kwangmyongsong-4 satellite and static firing test of new thrust engine for launch rockets as highlights of the year.
He also referred to 70-day and 200-day national campaigns around the Seventh Congress of the Workers' Party of Korea but didn't mention any specific economic or construction achievements by name.
Presentation and broadcast
The speech was prerecorded and broadcast on Korean Central Television at midday. It was repeated the same day at 2 pm, 5 pm and 8 pm, on January 2 at 10 am, 2:43 pm, 6 pm and 8:49 pm, on January 3 at 9:16 am, 2:37 pm, 5:30 pm and 9:36 pm. Ahead of its first airing, KCTV notified viewers at 8:30 am, 9:30 am, 10:30 am and 11:30 am that the speech would be broadcast at noon.
The introduction to the speech was read by Ri Chun Hee and it began with Kim, in a suit, standing at a large lectern. It was apparently recorded in the headquarters of the Korean Workers' Party and canned applause was added into the recording during editing.