Last updated March 16, 2021.
Pyongyang General Hospital (평양종합병원) is a new, flagship hospital under construction in Pyongyang.
It was announced on March 17, 2020, when Kim Jong Un attended a groundbreaking ceremony and set a 200-day construction schedule. The timeline positioned the hospital to be ready for the 75th anniversary of the Workers' Party of Korea (WPK) on October 10, 2020, but the plan proved too ambitious and the hospital was not completed in time.
It was not mentioned during the October anniversary and has subsequently largely disappeared from state propaganda, although the project was featured prominently in an end-of-year recap of Kim Jong Un's work in 2020 on state television.
The Hospital
The hospital is a long building with two towers, each approximately 15-20 stories high, rising at its rear. The northern tower is marked as Tower 1 and the southern tower as Tower 2. Additionally, satellite imagery taken during its construction show several basement levels. The front of the hospital is on the eastern side, facing the Taedong River.
The hospital will use a domestically-developed medical information management system that will digitize most patient data, according to the Rodong Sinmun on July 7, 2020. Development of the system began in April, at around the same time construction got underway, and includes the participation of researchers at Kim Il Sung University and Pyongyang Medical University.
Location
The hospital is located on a piece of land that sits between the Taedong River and the Monument to Party Founding.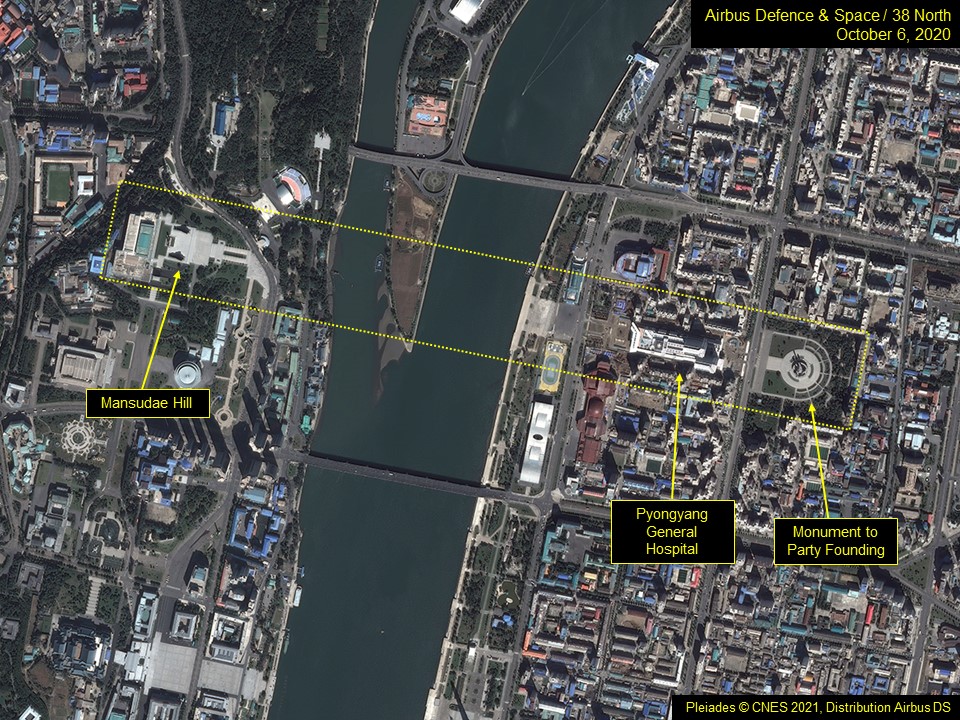 That puts it the middle of a direct axis between the monument and Mansudae Hill. As a result, the view of the monument is partially blocked from Mansudae Hill.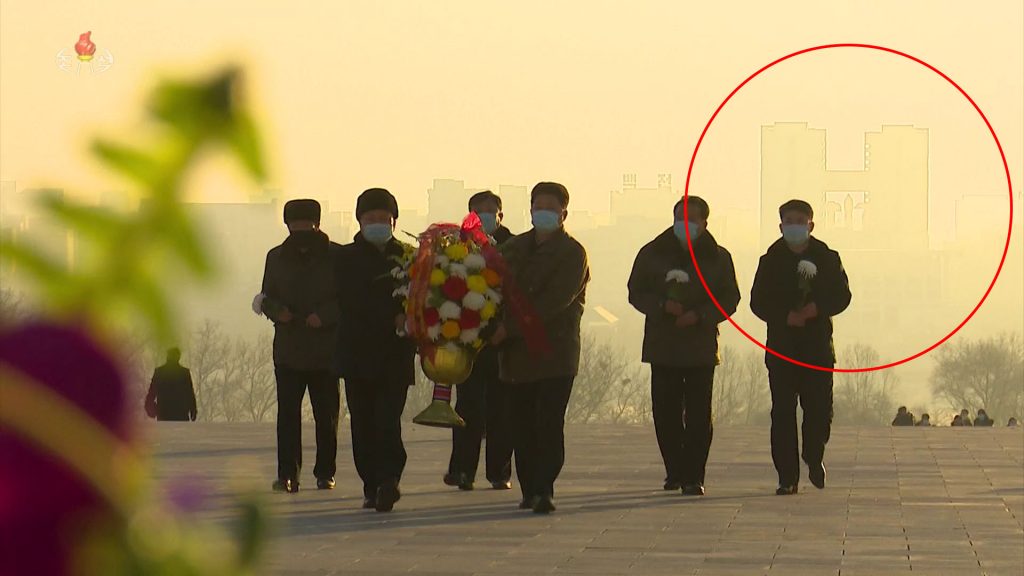 Construction
At the groundbreaking event, Kim said plans for the hospital had been approved at the 5th plenary meeting of the 7th Central Committee of the WPK that took place in December 2019.
Construction work began the same day with a ceremonial blasting triggered by Kim himself and just two weeks later the concrete foundation for a large part of the building had already been poured.
It progressed through the summer with the building rising at an impressive pace, but even at that pace it started to become clear that it would not be ready in time.
In mid-July, Kim Jong Un visited the construction site and didn't like what he found. While careful to praise the work of the laborers on the site, he criticized the project organizers for failing to come up with a proper budget, according to state media reports.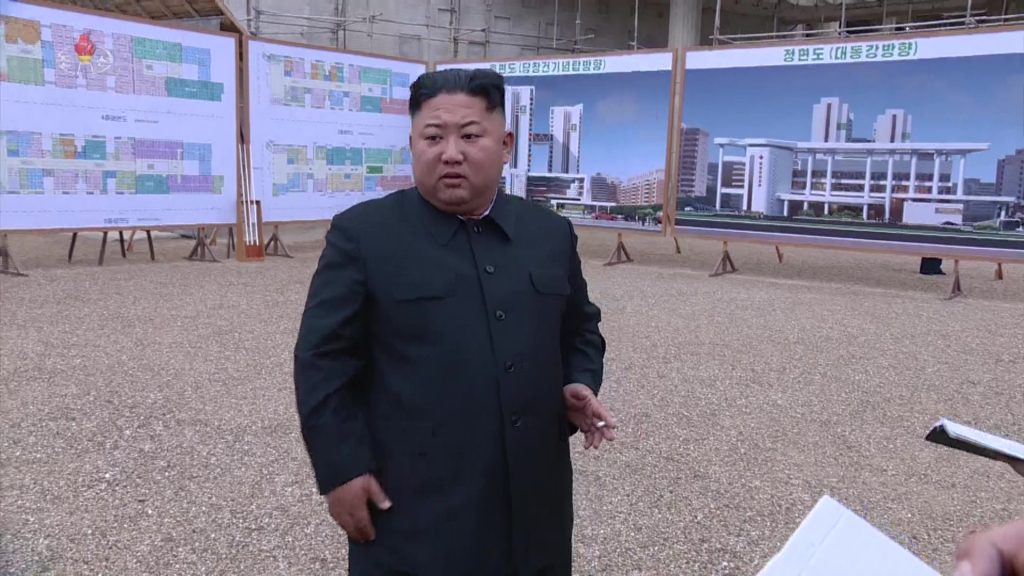 Kim outlined "serious problems in economic organization for the construction" and said "the construction coordination commission is organizing economy in a careless manner with no budget for the construction properly set up," said KCNA.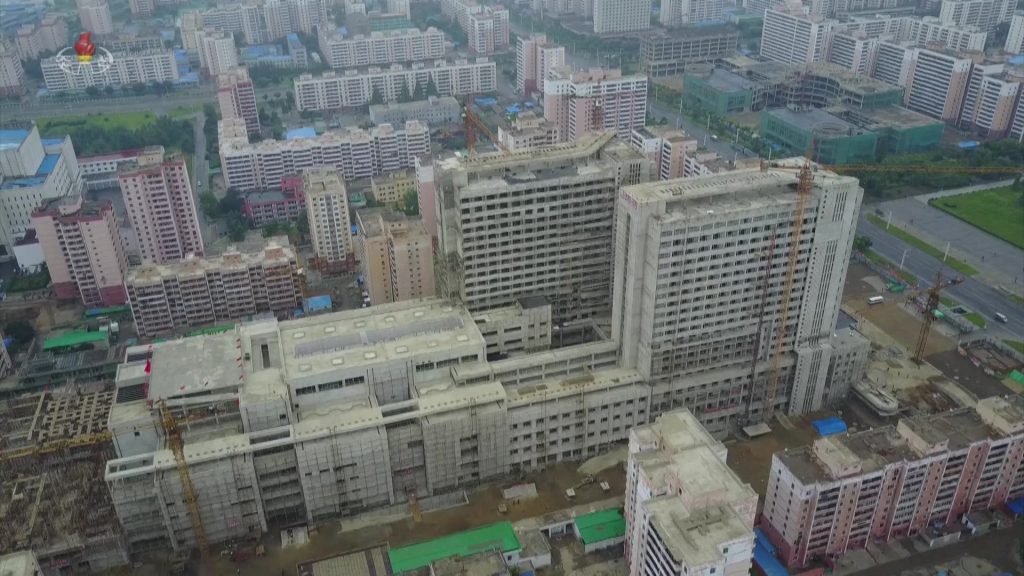 Satellite imagery shows the external construction was completed around late September or early October. It is impossible to gauge internal construction work solely from satellite imagery, but the site has appeared quiet since October.
38 North Analysis:
Domestic media coverage